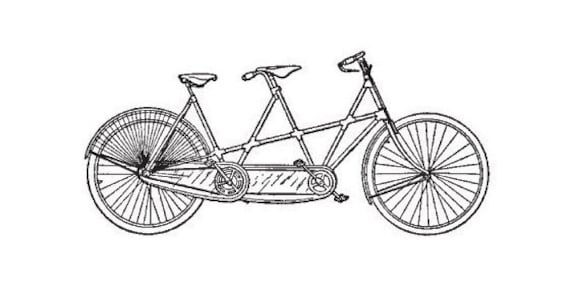 Sunday afternoon I sat at my usual spot writing. It was bliss. The hubby had disappeared to watch a football game. The house was quiet. The dogs were snoozing. The front windows were open, and a lovely breeze stirred the sheer drapes.
I was in the zone. Words were flowing from my fingers. Then I heard it….a horrible squeaking and grinding. At first I ignored it. I didn't want to put a wham-mo on my writing mojo. But after a few more seconds of the irritating noise, I went to the window and peeked.
This is what I saw — a man and a woman in their fifties, huffing and puffing, as they pedaled a tandem bike with obvious brake-rubbing issues up the hill in front of my house. They weren't looking at the bike pedals. Nope. Their heads were up…focused on getting to the top.
I couldn't believe it! The noise was horrible. The drag to the wheels from the brake pad compounded with the hill itself made their effort herculean. But they kept on pedaling! Heck, I would have gotten off and pushed the dang thing!
I watched them disappear, still huffing and puffing. It was my Sunday afternoon life lesson. Oftentimes, we are faced with impossible tasks. We have to stay on task, ignore the screeches, and keep our eyes on the end-goal. This applies to writing, work, and relationships. Note the two were working as one…that's the relationship thing. (That is an inadvertent love arrow to my hubby.)
MY GOALS FOR THIS GLORIOUS FALL WEEK:
Pen two chapters to ODS.
Nip and tuck the murder mystery dinner script with the fabulous Ms. T.
Prop lists…prop lists…prop lists.
Costumes solidified.
Research minor characters in Shakespeare's plays.
Walk every morning and pray.
Keep my eyes focused on the things that matter.
Drink more coffee, laugh more often, and savor the chocolate.